Drs. Chan and Oh bring years of knowledge, experience, and cutting-edge treatment to their patients. They work with the latest state-of-the-art equipment expected from a modern dental office to ensure each patient receives the most thorough exams, cleanings and treatment. As specialists in prosthodontics, implants and restorative dentistry, they are able to offer each service, from routine cleanings and exams to complex treatments, at the highest standard of care. The results and care they deliver are truly exceptional. You will be in excellent hands here.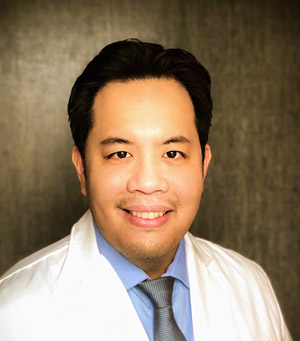 Dr. Quinn Chan, DMD, MS, CAGS
Dr. Quinn Chan is a Prosthodontist and Restorative Specialist who works with patients that have problems ranging from deterioration of single teeth to the full mouth. After over a decade of specializing in Prosthodontics, Dr. Chan has come to recognize the comprehensive extent of harm and injury that some patients' mouths experience over a lifetime of repetitive trauma, and the complex nature of treating and restoring these patients to a healthy occlusion and esthetics where the teeth come together and function harmoniously. With his background in engineering, Dr. Chan has a unique understanding and ability to integrate technology with his treatment planning and therapy, which he uses to enrich patients' experiences and enhance accuracy and predictability of treatment. His perceptual ability, technological expertise in synergy with his extensive knowledge in dental medicine is a unique quality that differentiates him from many clinicians. As a team of over a decade with CDMR's Periodontist, Dr. Oh, he understands the intricacies of merging their specialized talents to maximize treatment outcomes for the most complex conditions.
Originally hailing from suburban Washington, D.C., Dr. Chan attended the University of Virginia, earning a Bachelor's Degree in Biomedical Engineering in 1999 and then subsequently received his Master's Degree in Biotechnology from the Johns Hopkins University. Before finding his path in dentistry, Dr. Chan had a career as an engineer working at the National Institutes of Health. Dissatisfied with his career to that point, Dr. Chan sought to find a path where he could apply his extensive knowledge as an engineer and have a meaningful impact on those in need of healthcare. Realizing that the field of dentistry encompasses both the science of engineering and artistry, combined with the day to day impact it has on patients, Dr. Chan embarked on a new career path and earned his D.M.D at the Tufts University School of Dental Medicine. While advancing his dental education through a General Dental residency at the University of Connecticut, he made the ultimate decision that, in order to fully integrate his past as an engineer with dentistry, he needed to gain a complete comprehension of the various aspects of restorative dentistry and further his training to become a recognized specialist as a Prosthodontist. Through attending an additional 3-year residency program, he earned his Certificate of Advanced Graduate Studies in Prosthodontics at the University of Michigan School of Dentistry.
Dr. Chan has now been practicing dentistry for 15 years and has been a Prosthodontic specialist for the past 10 years. In addition to working in private practices, Dr. Chan served as an Assistant Professor for over a decade at Tufts University School of Dental Medicine, where he had the honor of being recognized and receiving the Dean's Award for Excellence in Clinical Teaching.  Dr. Chan has been recognized on numerous professional occasions for his profound understanding and ability to teach and guide his students and fellow colleagues.
In his leisure time, Dr. Chan enjoys playing the acoustic and electric guitar, photography, and computer/technology building and repair.  With his wife and two adorable rescue dogs, he enjoys traveling and exploring new places.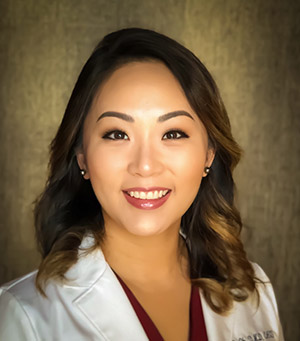 Dr. BiNa Oh, DMD, CAGS
Diplomat, American Board of Periodontology
As a Periodontist and Implant Specialist, Dr. BiNa Oh treats patients whose supporting tissues of the teeth are affected by diseases or other conditions, those in need of tooth replacement through dental implant surgery, or situations when implants develop damaging conditions in their supporting structures. With over a decade of experience as a Periodontal specialist, Dr. Oh understands the destructive inflammatory processes that affects both bone and gum tissues surrounding teeth and implants, and how to integrate the treatment, management, and prevention of these issues with an overall comprehensive treatment that would be developed by CDMR's Prosthodontist, Dr. Chan. Working together as a team for over ten years, Dr. Oh and Dr. Chan treat some of the most complex situations involving a combination of Perio-Prosthodontics. With her background and training in studio arts, Dr. Oh is a uniquely skilled surgeon that combines her demonstrated expertise, creative eye, artistry, and artistic hand-skills to provide the best outcome possible.
Originally born in South Korea, Dr. BiNa Oh later settled in Massachusetts around 25 years ago, where she now calls home. After spending a few years learning English in Deerfield, MA, Dr. Oh attended Phillips Academy Andover and was then accepted into an accelerated 7-year B.A./D.M.D program at Tufts University that combined her Bachelors in Art History and Studio Art along with her Doctorate of Dental Medicine at the Tufts University School of Dental Medicine within a shorter span than is typical. Throughout the program, Dr. Oh received the Merit Scholarship, the Outstanding Preclinical Achievement in Operative Dentistry award, and the Association of Tufts Alumnae Senior Award for Ethics, Professionalism and Citizenship. Dr. Oh then attended the University of Michigan School of Dentistry and earned her Certificate of Advanced Graduate Studies in Periodontology through a 3-year residency training. By making a significant achievement beyond the mandatory educational requirements of her specialization, Dr. Oh has achieved the status of being a Diplomat of the American Board of Periodontology/Board-Certified Periodontist. To obtain this certification, Dr. Oh demonstrated exceptional in-depth knowledge and proficiency in the full scope of periodontology and dental implant surgery through completing extensive oral and written examinations conducted by the Board of Periodontology.
Dr. Oh currently resides in Boston and splits her time as a clinician in private practice and as an Assistant Professor at Tufts University School of Dental Medicine, and previously served as a periodontal consultant/supervisor at the Lutheran Medical Center's Advanced Education in General Dentistry programs. As a distinguished clinician and educator, she has published and lectured on various topics in Periodontology and in Implant Dentistry. Recently, she was honored to be a recipient of the Massachusetts Dental Society's 10 Under Ten Award, in recognition for her significant contributions to the profession, her community, and organized dentistry during her first ten years in practice.
When not practicing or teaching, Dr. Oh enjoys traveling and exploring new locations, cultures, and cuisines. She is an avid animal lover and has two adorable rescue dogs. Together with her husband, these two pups have been nurtured into health and now make occasional visits to Center for Dental Medicine & Reconstruction to brighten the day for all staff and patients. As a resident of Boston's South End, she enjoys the diverse cuisine, activities, and arts the town has to offer with her husband and two fur-babies. With her background in Art, she also loves to create new pieces of art when possible.